Les Deux Alpes, Europe, France
Location
With a vast choice of ways to entertain in a mountain setting, the resort of Les Deux Alpes makes a perfect summer playground for the whole family! This package is designed for active families with preschoolers and kids of up to 7yrs old, who are looking for a unique nature experience in a stunning alpine setting curated by the Bike Hike Tours team. A balanced blend of kid's summer camp and parents-only courses with plenty of time together too.
* Price $5.280 is per family of 3 people; additional children $490/child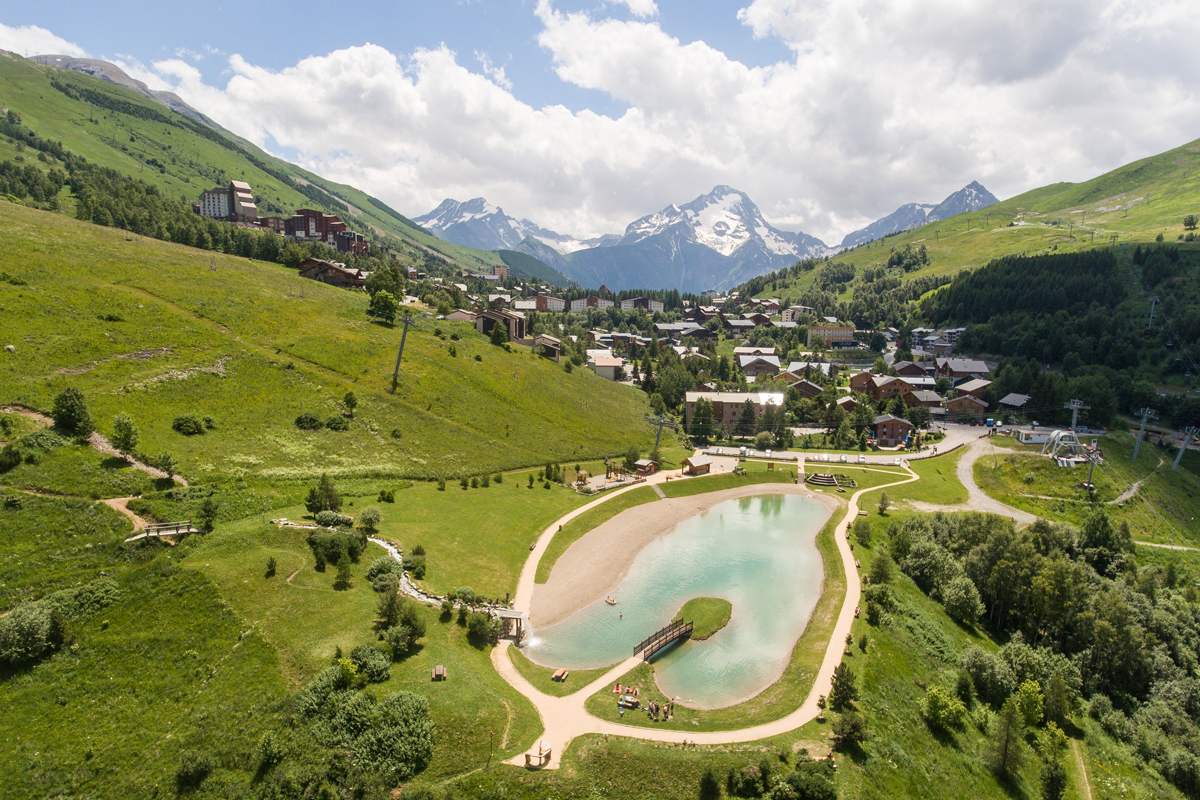 There is no better place to recharge your batteries than the Alps! Mountains are wonderfully soothing in the summer, as the temperatures rise, but maybe not as far up as in the city!
Nature and soul
This trip is also about connecting with nature, finding joy in little things and empowering the relationship we have with our family and friends! During this week, we will swap cars, taxis & subways, for our own feet and bikes. Breathe in the fresh mountain air while taking a walk, a long-distance hike or MTB ride down in the valley. We will also exchange disposable plastic water bottles for fresh water from the natural stream or tap. Living a simple lifestyle, while taking care of yourselves and connecting with your family & friends will be so much easier in a pristine environment like this one! You will have time to slow down and relax, while your little ones will be playing around in nature!
To get an idea about how the resort looks like in summer, watch this awesome video below:
Activities
Each day, there will be a wide array of daily activities for your little youngsters to enjoy the stunning nature of Les2 Alpes while having the utmost fun! All the activities are suitable for preschoolers and kids to up to 7 years old. Under the watchful eye of our guides, they will have the safest and most joyful time. We've seen children bond so well when playing in an active environment, so by the end of the week, new friendships will build up and make this experience a fond memory!
Need more ideas for children with boundless energy? At the foot of the slopes, you'll find plenty of activities where they can let off steam, such as trampolines, summer toboggan, bouncy castle, outside swimming pool and more.
This trip is also about freedom for parents to experience some of that 'me time' as well! You can choose from MTB, hiking, trekking activities or simply pull up a sunchair on the terrace and relax. In the end, there is no harm in enjoying yourself while knowing your kids are taken care of! On top of that, you can treat yourself to a wellness experience at the spa.
Everyday yoga classes with our in-house yogi Lindsey
Yoga is the perfect addition to an active holiday for every member of the family! Our philosophy is that yoga is for everyone, even if you've never tried. Lindsey specializes in yoga for the active person, focusing on keeping your body strong, stretched and healthy so you can enjoy all of the adventures in Les Deux Alpes. We will offer daily classes for the whole family with special, mini-classes for parents with their little ones!
Accommodation in Les Deux Alpes
We will be staying in a modern, French-style residence, with comfortable rooms and space to relax in the evenings while sipping a glass of French wine and their delicious fromage!
Read if you need further convincing…
Listed below are some additional fun facts which make Les Deux Alpes resort so attractive in the summer:
exceptional scenery that offers something for everyone, no matter what age or fitness level
more than 100 sunny days (20 days more than the national average!)
more than 180 shops (stores, bars, restaurants…) to stroll around
child-friendly resort with entertainment, shows, workshops, a recreation center, etc. throughout the summer
the resort organizes the highest number of events during the summer season!
So, are you joining us?
DEPARTURE/RETURN LOCATION
Milan Malpensa airport
GROUP SIZE
max eight families
CHILDREN AGE
from preschoolers and up to 7yrs old
INCLUDED

7 nights lodging (Double rooms/King rooms) at the mountain residency
private transfers to and from Milan Malpensa airport to Les2Alpes
welcome dinner on day of arrival
experienced BHT team of English speaking guides
5 day active camp for kids (snacks, fruit and drinks included)
4 day guided activities for parents (bike, hike or skiing*)
5 day MTB pass + Glacier Experience
5 day bike and protection gear rental
10 yoga sessions (Mon-Fri, Morning and Afternoon)

NOT INCLUDED

airfare (we can assist you to find the best options)
travel and activity insurance
food & drinks
tips are optional and not included in the price
Day 1 – Saturday
After a long haul flight from the US, you will for sure need some time off. After picking you up at the airport in Milan, we will drive for 3h to arrive at the beautiful setting of Les Deux Alpes resort. You will get comfortably settled in your residence and have some time off to catch up on those missed hours of sleep. Dinner is included.
Day 2 – Sunday
Easy like Sunday morning. This will literally be our theme song for the day. Knowing how the jet lag affects you, and especially your kids, we will give you another day to adapt to the new surrounding. However, we will meet up for an orientation stroll around the town and take time to stop for some delicious home-made ice-cream!
Day 3 – Day 7: Monday to Friday
8:00 am: morning warm-up yoga session, that will get everyone ready for an active day in the mountains!
9:00 am – 12:00 pm: activities for kids and parents, all accompanied by a guide
KIDS' CAMP
So we've thought of everything to provide the perfect welcome for your little ones and organized top activities that will bring a smile on their face and a well-deserved sleep in the evening!
Day 1: the Venosc high ropes and adventure park with an instructor,
Day 2: MTB school on the pump track for kids with an instructor,
Day 3: easy hike around the hills picking up flowers and looking out for marmots followed by swimming in the lake with an instructor,
Day 4: family day trip on the glacier with the gondola, walk around the glacier & playing on snow,
Day 5: basics of climbing on the outdoor wall with an instructor.
PARENTS' ACTIVITIES
We did not, however, forget about you! While your kids will enjoy the outdoor activities with English speaking instructors, you will have time off to enjoy and try out something new yourself!
Day 1: basics of MTB and a warm-up ride or hike
Day 2: MTB or hike
Day 3: MTB or hike
Day 4: MTB or hike
Day 5: family day trip on the glacier with the gondola, walk around the glacier, with the optional MTB ride down
* Additionally, you can decide to spend a few hours skiing/snowboarding on the glacier. Pricing upon request.
Day 6: solo MTB or day off
1:00 pm – 4:00 pm: lunch and break – nap time!
4:00 pm – 6:00 pm: afternoon activities
KIDS' AFTERNOON ACTIVITIES
Time for artwork workshops or afternoon spent by the outdoor swimming pool, optional walk around the town and other fun activities with our guides. (Choice of activities flexible and can be designed for participating families and based on children's age and interests)
PARENTS' AFTERNOON ACTIVITIES
Ardent moms and dads will have time to hop back on the MTB for another two hours, alternatively join an afternoon yoga session at 5 pm, when our yoga teacher, Lindsey will take you to a different outdoor venue every day.
7:00 pm onwards: dinner time & evening fun at the residency
Day 8 – Saturday
After breakfast, we will head out for the road again and drive you back to the airport. Unfortunately, goodbye always comes too fast, however, this will be a happy one, as it will be filled with memorable moments and authentic travel experiences that will stay with you forever.